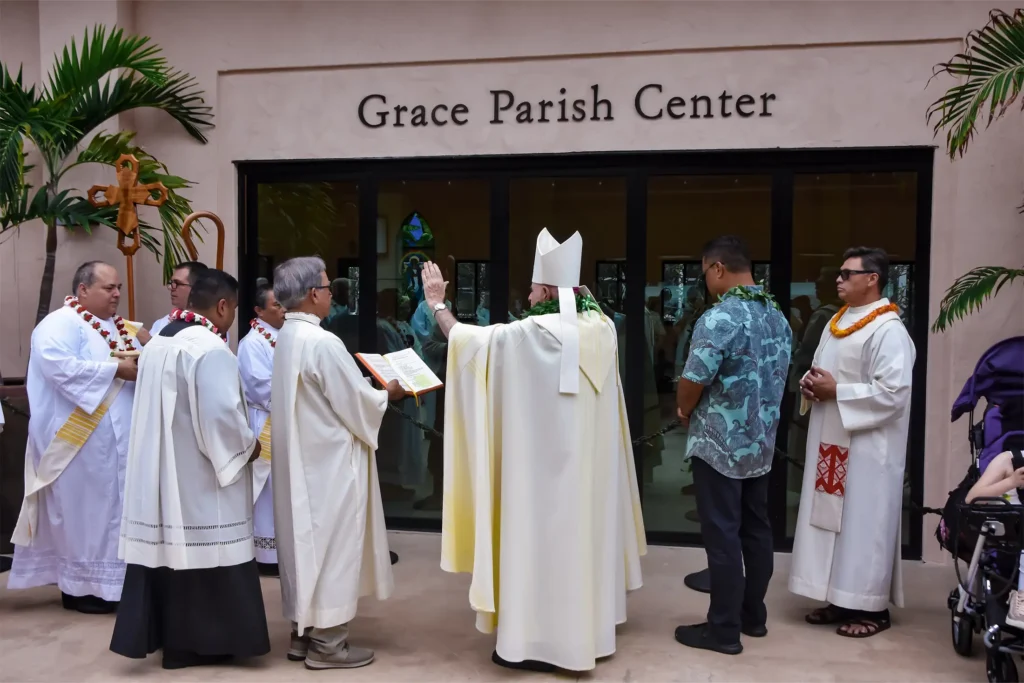 Seventeen years since the October 2006 earthquake and eight years after the dedication of St. Michael's Church, the long-awaited Grace Parish Center has been completed! Despite a recession, COVID-19, setbacks, and, at times, frustrations, we are now blessed with facilities that will serve our Catholic community for decades. Construction has been completed — however, a few items from the punch list remain to be recti
fied.
We are anxious to begin new programs and activities and expand others in the Grace Parish Center. The center will be a place where we can celebrate and offer additional ministries and community gatherings. We have already begun putting the center to good use for faith formation for both children and adults, Bible studies, the Vicariate Spring Youth Festival, the Knights of Columbus dinner dance, Marriage and Engagement Encounter, Good Samaritan hands-on CPR training, parishioners' social events, and our upcoming Feast Day celebration.
We are extremely grateful for every person who contributed to making the Grace Parish Center a reality. Without your support, we would not be celebrating the completion of the building project. We recently installed our recognition wall near the main entrance to the church to recognize those who have made cumulative donations of $5,000 and above. 
We have established various levels:
   $5,000 – $15,000             $15,000 – $50,000
   $50,000 – $100,000         $100,000 – $250,000
   $250,000 – $500,000       $500,000 and above
We appreciate all donations at whatever level is comfortable for you. Many of you may have donated cash that we do not have individual records for, but the amazing cash donations total is over $700,000! Please consider using an envelope with your name and address so that you can be recognized. 
As we transition from the construction phase to repayment of debt, your continued support is appreciated. Phase 1 was completed during the construction of the church. Site preparation, concrete, plumbing & electrical work was completed at a cost of about $1.4 million. Phase 2 has now been completed at a cost of $5.5 million. This includes the construction of the center and all equipment, furniture, and fixtures for a total cost of $6.9 million. We acquired a 20-year loan of $3.5 million at the beginning of construction. After making a recent payment of $1M, our balance is $2.1M. This recent payment will enable us to retire the loan in 10 years and save $700,000 in interest. 
Again, thank you to all who have contributed to this amazing project — those who have given financially, those who have shared their talents, and those who have prayed for its success.
If you wish to check your cumulative donations or arrange to make a new donation, please contact Jo Ann Dunn at 808-326-7771.
Courtesy of Catholic Stewardship Consulting Oct/Nov 2023 Newsletter